---
Cool Guys and Bad Girls
One must be absolutely cool in our postmodern era – one might claim overwriting the famous imperative on modernity by Arthur Rimbaud ("One must be absolutely modern"). Being cool is rather trendy today, even expected from anyone. Cool – the word means 'a little cold' as well as 'calm.' A guy (not a gentleman, sorry, gentlemen do not exist any longer for almost everyone is called by his/her first name(s) in everyday life) must be cool.
What about a gal? She should be clever, have several degrees, careerist, a good mother, and most importantly, sexy. The ideal woman (sorry, a slip of the pen, I should have said 'gal') is successful, emancipated, cares for her family, and is a whore in bed. This seems to be paradoxical since it is hard to ride two horses with one behind … One does not have too many choices because these are the expectations of our postmodern times. When a woman is merely coquettishly provocative, one asks the question of what is to be sold again, what kind of product or service needs to be advertised with a semi- or fully naked woman set in a pose of overt sexual challenge.
To what degree is classical music "classical" or "popular?" It is difficult to answer the question when tunes from the symphonies of Mozart can be heard on the ringtones of cell phones or tunes of well-known hits can be detected in contemporary symphonies; it seems that postmodernism eliminated the virtual barrier between "classical" and "popular." I have found lately that classical music tends to become cool, and even sexy.
We know well that pieces of art are not autonomous since they are exposed to the demand and supply thus they need advertisement, which many times is manifested in wrappings. Covers of CDs suggest something and it is not too difficult to decipher their code; they claim, "Buy me! You badly need me!" This is not uniquely new in the history of buying and selling pieces of art but this buy-me-immediately effect is achieved these days with rather different means than earlier. I have been studying the CD covers published by the widely known Deutsche Grammophon after 2000 and these covers make me think and trigger socio-aesthetical questions in my mind. Most music publishers communicate some markedly conspicuous aesthetics with their CD covers. For example, the covers of Hyperion display copies of paintings somehow related to the music on the CD, while ECM strives at minimalism with its beautiful graphics or photographs taken from special angles and retouched in a distinctive manner. Let us take a closer look on the CD covers of Deutsche Grammophon, both the old and the new ones.
The old covers can be classified as
1. abstract graphics (like, for example, 20th Century Classics)
2. portrait about the solo musician
3. drawing or caricature about the solo musician
4. singer on stage in costume of his/her role
5. conductor, singer or soloist in the course of making music, or several musicians together with the conductor during the rehearsal as they are studying the music score
6. Soloist playing his/her instrument at a concert, accompanist in the background; men wearing tail-coats, women wearing evening dresses
7. A picture or a copy of a piece of art relating to the music dominates in the cover
Let us see some examples from the 21st century.
Outstanding Russian soprano Anna Netrebko on her 2008 album Souvenirs wears the make-up that makes her look like a Barbie-doll. Her face is rose coloured, her lips are thick, half-open, looking like a porn star who is going to perform fellatio.
German violinist Anne-Sophie Mutter looks younger and younger as time passes. Many years ago she wore elegant evening dresses whereas nowadays her dresses are more and more lose-fitting and transparent to men's eyes, her hair is not clipped any more but floats spreading in the air as if she were flapping it in order to trigger sexual arousal. In another cover she is barefooted, wearing blue jeans and lies on a couch. A different cover displays her with open décolletage that revels more and more of her femininity, her dress looks like a nightgown; she leans on something, as if it were a man's shoulder against which she leans. She can also be seen in some jeans and a black top sitting on the floor, bulging her boobs; she lunges her head forward, her fair hair falls down indolently and she looks like a vamp.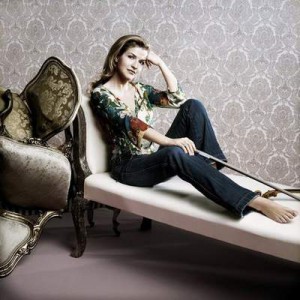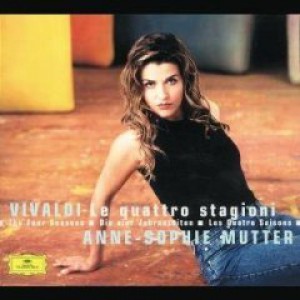 Widely celebrated French flutist Emmanuel Pahud sits on the floor with unbuttoned collar and cuffs of his shirt; he is a cool guy. In another cover, in his sporty outfit he grabs a vertical bar, looking as if he were going to perform a gymnastic exercise. If one takes a closer look on the bar, one can make out that it is his instrument, the flute, magnified with a Photoshop application. That's it, Emmanuel! Be sporty, be cool!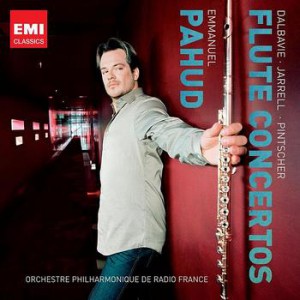 Bryn Terfel has a magnificent baritone voice but he is not really handsome. It never hurts if a man is handsome but this is not strictly expected from male singers. Only to put it mildly is Terfel not a good-looking man and with a little gimmickry Deutsche Grammophonmade a virtue of necessity; on his album Bad Boys, he sings opera arias of the heroes who are villains, like Mefistofele, Scarpia, Jago, etc. On the cover of the CD the singer looks as ugly as it is possible; he is stubby, and his distorted face enhanced with Photoshop shows Satan itself. For this thematic selection the cover is exaggerated, unsightly, and rather kitschy. The kitschiness of the exaggeration has the same effect as Netrebko's Barbie face on her solo album.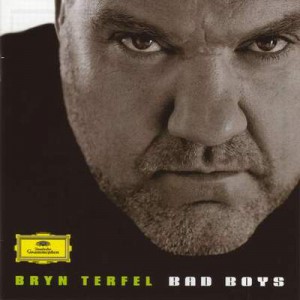 It seems that Deutsche Grammophon learnt the lesson of postmodern marketing of art, that is, the woman should look like a bad girl while the man should be cool, even a bad boy. The problem with all these new CD covers is that the coarse and pretentious means of popular culture do not highlight the values of high culture, that is, it is not the classical means which takes fine effects in high culture.
In our postmodern age, is high culture or the artist not enough in order to be precious and thus vendible? Is it really the above mentioned cool means that have to be used in high culture? Do artists today have to be turned into cool guys and bad girls? It seems that with the covers of classical music, Deutsche Grammophon overshot the mark with borrowing the tools of popular culture.
Comments
Overview of comments